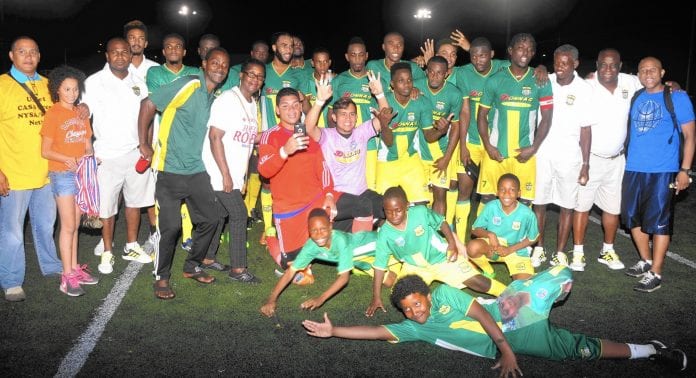 The Caribbean Americas Soccer Association (CASA) and the city of Lauderhill are once again ready to host the annual youth soccer classic starting on December 15 and running through to December 18. Held at the Lauderhill sports park, the tournament is open to boys ages 14 to 20 years old, and the matches will be 80 minutes long, consisting of two 40 minute halves and a half time break of ten minutes. Group A will include Jamaica, Plantation, and Chevias. Group B will include CASA, Barbados and the Fort Lauderdale Strikers.
Thursday, December 16 at 6 p.m., the Barbados under 17 team will battle against an international 11 before CASA takes on the Strikers at 8:30 p.m. On Friday, Barbados will go up against CASA at 6 p.m. and Jamaica will face Chevias at 8:30 p.m. Saturday will begin earlier with Plantation and Chevias at 4, followed by Barbados and the Fort Lauderdale Strikers at 6 p.m., and Jamaica versus Plantation at 8:30 p.m.
The final day of the tournament will have the runner up from Group A against Group B at 3 p.m., followed by the winner from Group A against the winner of Group B at 5 p.m. Rankings will be given out to the teams by goals scored during the matches, goal difference between the teams and the head to head competitions. The winner of each game will be awarded 3 points and in a draw game, each team will be awarded a point.
In the spirit of Christmas and the Holidays, organizers are asking attendees to bring unwrapped toys to the park during the games to support the toy drive to help needy children have a happy Christmas.
CASA has launched its soccer and scouting program as an outreach to youths, coaches, scouts and families with a view of teaching children life-long values of sportsmanship, provide exciting competition, and at the same time exposing and affording boys the ability to showcase their skills and talent. The Youth Soccer Classic program further supports CASA's mission of exposing talents to Coaches and Scouts by providing a one stop shop for soccer talent.