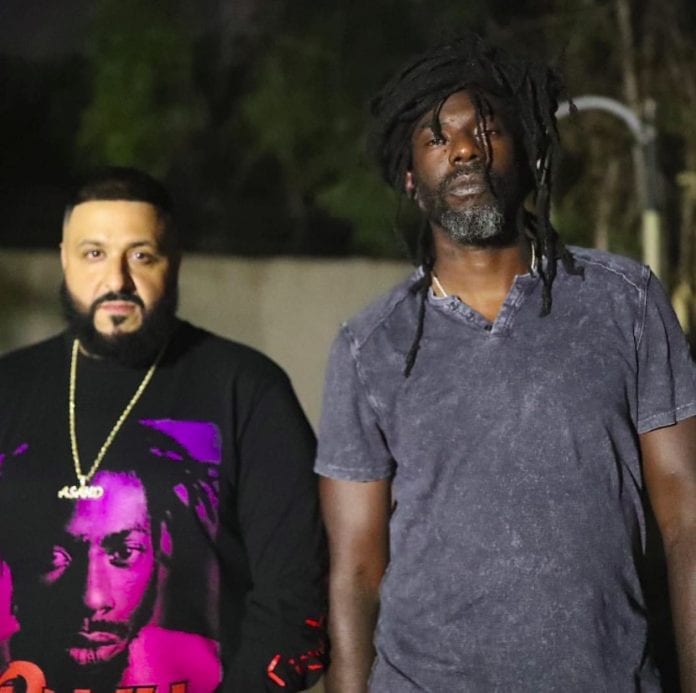 As reported by the website www.IamaJamaican.com  DJ Khaled flew to Jamaica on Sunday to visit Buju Banton before both of them entered Buju's studio in Kingston.
The American DJ, record producer arrived on the island by private jet shortly after 4:00 pm on Sunday for 'top secret' trip however his Buju Banton sweater revealed his intensions.
Buju was spotted in a studio with Jamaican producer Steven "Lenky" Marsden last Sunday, just days after he returned to Jamaica after serving a 7-year sentence on drug-related charges at the McRae Correctional Facility in Georgia, U.S.
Khaled and Banton's friendship dates back to the early '90s when he launched his disc jockey career.
Fans have been eagerly awaiting new music from the beloved entertainer, but Germain, Dalton Harris' manager, said it is too early to predict the kind of music fans can expect from the reggae legend. 
On the night of his return to Jamaica,  Buju said he had ten years rest, and he is ready to start working now, a reply to Germain who told the reggae icon that he needs to take two weeks off before recording new music.
"Yes, he has been writing, and yes, the lyrics are there, but I can't say just yet what the sound will be like for his new music," Germain said in a recent interview. "You will only know that once he gets into the studio and start doing the work. Those things consistently change over time so we are just hoping to go and try and make some good, positive music. We're not looking to do an album, we're just going to be recording some songs."
Buju and Germain have collaborated on some of Banton's most popular songs to date, including Up Close and Personal, Champion, Destiny, Have to Get You Tonight and How the World A Run.
Germain also reveals that Buju Banton's first show will be in Jamaica March 2019 before his highly anticipated concert in Trinidad and Tobago set for April 2019.