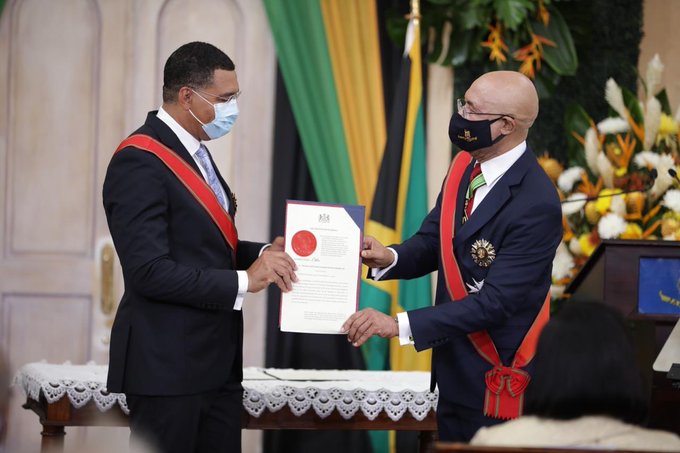 The leader of Jamaica Labour Party (JLP), Andrew Holness, was sworn-in this afternoon as Prime Minister of Jamaica. The 48-year-old politician last week led the Jamaica Labour Party to a 48-15 seat win in Jamaica's 18th general election since Universal Adult Suffrage in 1944.
Due to restrictions around COVID-19, the swearing-in of the Prime Minister was restricted to 32 people inside the banquet hall of King's House.
This was Holness' third time being sworn-in as the leader of the country. In 2011, he was sworn-in as Prime Minister following the resignation of former Prime Minister Bruce Golding, and in 2016, he was elected for the first time, when the Jamaica Labour Party won the elections, 32-31.
Shortly after receiving the instrument of appointment from Governor-General Sir Patrick Allen, the Prime Minister stressed that "there is no honeymoon period for this government. Already I am back at my desk working towards our recovery."
In his swearing-in speech, Prime Minister Holness outlined the way to recovery, which included a greater emphasis placed on digitization and bolstering the island's healthcare system, which has been operating with limited resources even before the coronavirus pandemic.
Holness said that the island "does not have the reserve of resources to be always locking down the economy", and the onus remains on citizens to follow the protocols that have been outlined to limit the spread of the virus. Just last week Friday, one day after the general elections, it was announced that the island is now in the phase of community transmission and that stricter measures will soon be announced to help manage the second wave of COVID-19.
"We have to protect ourselves from the virus, we cannot rely on fear, panic and stigma to get temporary compliance but on the conscious effort on the part of Jamaicans. We must follow the established infection prevention and control protocols," Holness said.
"I have faith in our Jamaican people that we will quickly develop the understanding and compliance necessary to go about our daily lives in the new normal way. While the pandemic has created a crisis, it is an opportunity to reconfigure and modernize our economy and society."
The Prime Minister also noted that the pandemic has highlighted a greater need for digitization in Jamaica. He said that his administration will be committed to closing the digital divide. "All town centres will be serviced with free Wi-Fi as well as community access points. The public sector will be digitised and the National Identification System will be implemented." He also committed to ensuring that Jamaicans can easier access proper banking accounts.
Prime Minister Holness also reiterated his commitment to leading a government that is hard on corruption, and task-oriented. He said that with such a large and convincing mandate, the greater challenge will be to regulate and control the behaviour of those forming the majority.
He warned that arrogance and those who held the view that it was a free for all will not be entertained.
"This mandate is not about them, it is about the people, no princes or princesses were elected…we are servants of the people," Holness said. He indicated that each elected representative and each minister will participate in awareness and sensitisation activities of the Integrity Commission, to apprise themself of corruption laws and good governance procedures. "This will be an accountable government," he said.
Throughout his election campaigned, Holness had faced much criticism from the public due to several political scandals that erupted under his leadership, including the Ruel Reid/CMU scandal and the Petrojam scandal.
Among the other promises made by Holness include a reform of Jamaica Customs, which has been a major selling point for Jamaica's young people, more housing for civil servants and young Jamaicans, the expansion of broadband in public schools, the creation of six new science, technology, engineering and Mathematics academies, and the building of a national broadband infrastructure to be managed by a public-private entity. Holness also committed to providing over 150,000 new jobs, which would come from areas such as film, animation and logistics; as well as grants to micro, small and medium-sized businesses.
"Jamaica is on the right path", said Holness. "This government has been given the mandate to move with speed and alacrity in fulfilling the great destiny of this country. We will not squander it. We will use it wisely to build public trust," he assured viewers.
The ceremony was attended by several politicians including Dr. Christopher Tufton, Dr. Nigel Clarke, Dr. Kamina Johnson-Smith, Olivia "Babsy" Grange and former Prime Minister, Bruce Golding. Notably missing from the ceremony was the former opposition leader, Dr. Peter Phillips, who was represented by Dr. Floyd Morris.
Dr. Phillips had resigned on Friday, following the People's National Party's election loss.
In another ceremony moments later, Dr. Christopher Tufton (Minister of Health and Wellness), Dr. Nigel Clarke (Minister of Finance and Public Service), Dr. Kamina Johnson-Smith (Senator and Minister of Foreign Affairs and Foreign Trade) and Dr. Horace Change (Deputy Prime Minister and Minister of National Security) were all sworn-in, retaining their previous portfolios.
The Governor-General noted that other ministers will be sworn-in at another time, but it was important to hit the ground running with the appointment of the aforementioned ministers, as they are at the forefront of managing the COVID-19 pandemic.